---
---
KEL-EEZ® Silicone bulb for use in "jam up" sealing needs around the door frame. The profile will collapse as the door presses on the bulb creating a seal against air flow.
KEL-EEZ® Sealer products were designed to be used on interior and exterior door bottoms and frames to control the movement of air.
KEL-EEZ® Sealer products come with enclosed screws to secure the Sealer Product to the door frame or bottom.
---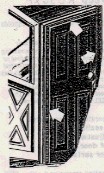 Install Bulb Seals Around Door Frame

Silicone Bulb Door Frame Seal